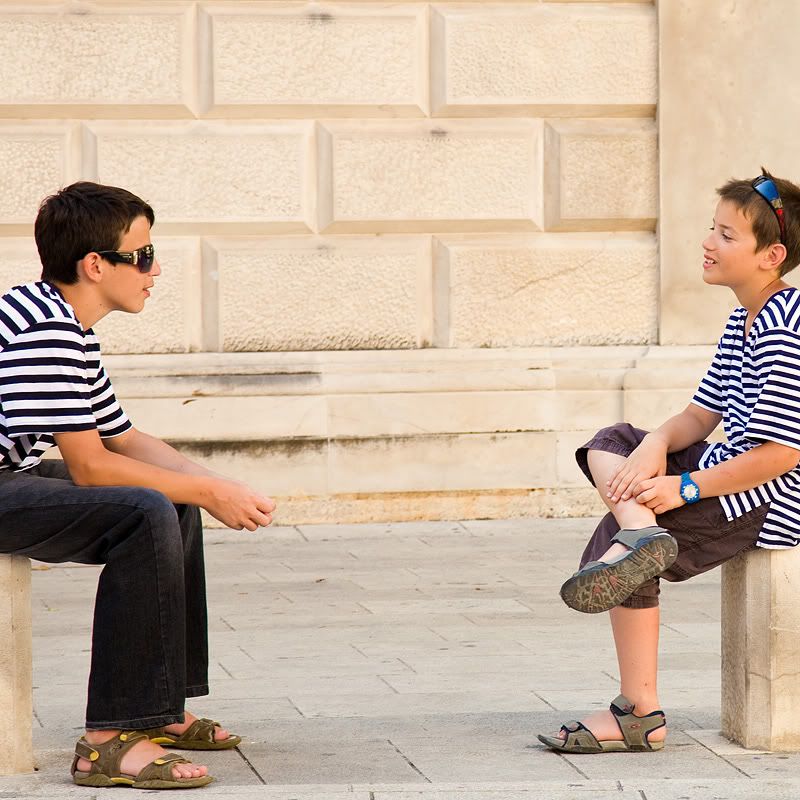 while in Zadar, we bought a stripy article for everybody, except (sob, sob, sniff) for myself.
Here you can see two of those things, worn by Timur and Yuri on our last day in Zadar, while they converse about something or other. Their conversation tends to consist almost solely of quotes from movies and books known to both. Occasionally those quotes are not even words - that's when they (especially Timur) try to convey the story by sound imitations ("and then he like KAABOOM!")
We stayed in Zadar itself for the last night before going back home. Our flight was in the evening, so we left our bags with the landlord and slooowly went around the town for one last time, with stops for icecreams, long lunch and drinks.
The place for the last night was found via "aquarius" tourist agency in Zadar. It actually proved quite difficult to find accommodation in the area beforehand via the internet, but once you are there, it's easy - just go around asking at tourist agencies that there are a few. If you feel energetic, you can even shop around and look for the right balance of price and quality, but we didn't do that - it was very hot and prospect of walking around with our bags didn't appeal. Incidentally, the trick of easily finding a place to stay while on the spot works in one more place I know of - and it's Scotland of all places. Except in Scotland, you go to one tourist info and they do it for you, while in Dalmatia different tourist agencies seem to hold different lists of properties.
No matter, it all worked out in the end
photos from Croatia for sale at shutterstock