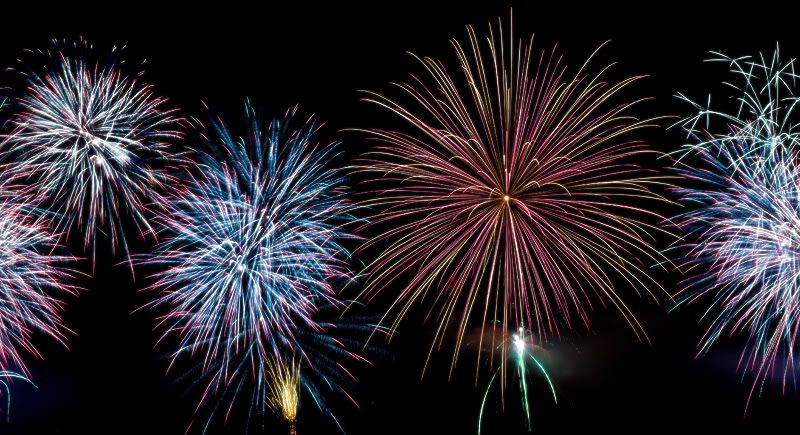 it's just a cover picture, not really taken in Funchal.
I want to write something about amazing NY fireworks which we saw three years ago. I didn't write anything back then, want to fill the gap now.
We did know that NY fireworks were going to be spectacular, and we also heard that the best way to enjoy them is from the water - booking a ticket with one of the tourist boats. But by the time we arrived, most of the larger boats were fully booked, and the ones that were still available failed to impress. So we made plan B - to go down to the harbor in the evening and stay there till midnight. And then _somehow_ get back to the place where we lived - self-catering cottage inside a large quinta (estate), far-ish from the harbor and, more importantly, long way up from it.
Luckily for us, the quinta owner turned up on the 31st and invited us to watch fireworks from the grounds of his house. I think he invited pretty much everybody who stayed on the estate, and about fifteen people turned up.
In the evening I tried to get kids to have a little sleep. Didn't work really, for two reasons: a. it seems that locals had private supplies of fireworks comparable in volume to official ones, which they were exploding with increasing frequency as the midnight approached, and b. the place was full of extremely nervous and loud dogs. Deafening combination.
So. I don't know what it looks like from the boat, but I think we got a better deal. From the terrace we could see all of Funchal, illuminated and decorated. We could see the cruise ships that came there and formed a big semicircle in front of the harbor - illuminated and decorated, or course. We could see most if not all the firing points for Funchal, and we could see a big burning year sign quite clear - so clear in fact that Yuri was worried that it will start a forest fire. Fireworks were incredible. They only last about 15 minutes, but there was never a pause and they keep changing and they are color-coordinated, etc, etc.
For other photo maniacs out there - tripod and remote release essential, and set your camera beforehand. Don't try to zoom in and out and search for blasts with hand-held camera, you will not enjoy the show and won't get many good pics either, there is no time.
And my personal recommendation is _not_ to book a ticket on a boat. We were simply lucky, granted, but I think if you do some homework you can find a place which is well up from the water and has unobstructed view towards the town.
fireworks at shutterstock