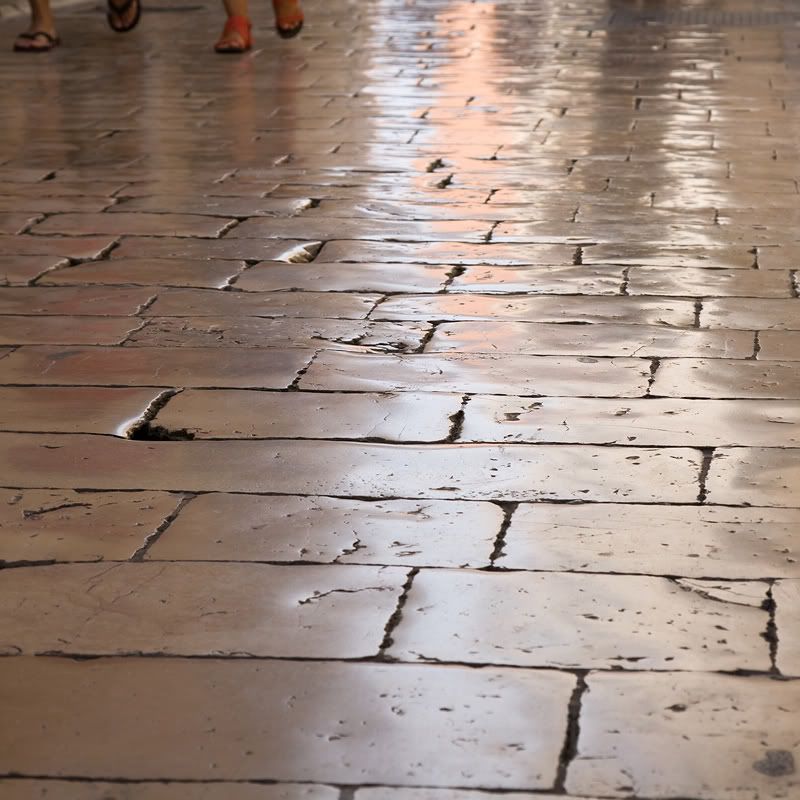 this is how old street's surface in Zadar looks like. It looked just the same in Rovinj.
One of the things that surprised me in Zadar this year is how busy and touristy it was - maybe not quite as busy as Venice (i.e. you could walk relatively freely without having to squeeze between sweating bodies), but close. Even more surprisingly, Rovinj as I remember it three years ago was almost spookily empty. Considering that Rovinj old town area is more beautiful and has fewer or maybe even none of the new buildings, the explanations I can come up with are : we were there not in the peak of high season and there are a lot more tourists coming now to Croatia in general then it was three years ago.
Back to polished street: they look slippery, but those were uneven stones to start with, so they provide just enough grip to walk safely (although I don't know how it'll be in rain).
But I did manage to fall (and drop my
camera!
) on stony surface in Zadar - and that was not on old street, but on newly laid edge of a lawn close to the waterfront. Waterfront there serves as town beach, and especially show-off bathers take a loooong run before they dive, so there are always wet patches here and there. And whoever decided on the new layout for the area had a bright idea of making some of the surfaces of completely smooth, flat and polished marble. I truly don't know what possessed him or her. Some water on that marble and it's as slippery as ice, so beware.
Having said that, it's nice area, especially for a evening stroll, and of course "Greeting to the Sun" glowing disk is an absolute highlight.
photos from Croatia for sale at shutterstock